Pediatric hematology oncology fellowship personal statement
The program is certified by the Accreditation for Graduate Medical Education.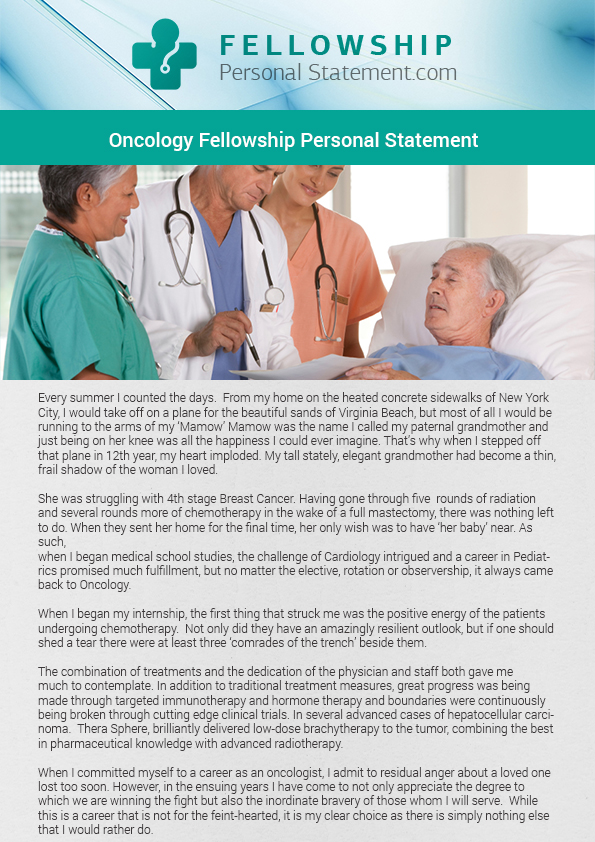 Fellowship Program Goals of the Hematology and Oncology Fellowship Program The overall goals of the Hematology and Oncology fellowship program are to provide an academically excellent, challenging and personally satisfying training experience for all Fellows.
The Facutly work close with Fellows to identify their future career path and maximize their ability to succeed in this path.
Fellows learn to grow as expert and compassionate Hematologist and Oncologists, and are provided various opportunities to participate in first rate basic and applied science related to Hematology and Oncology. The program offers a very diverse and rich clinical experience through its two major hospitals, the Boston Medical Center and the Boston Veterans Administration Medical Center.
Fellows obtain extensive first hand experience in management of all types of cancer and blood disorders and benefit from a large, dedicated and accessible teaching faculty.
For Applicants
The Standard Hematology and Oncology track involves three years of training, of which approximately 21 months are devoted to clinical rotations and clinical electives.
The remainder of the program the fellow has an option of either doing clinical or basic research depending on their choosen career path and interests.
Fellows are expected to identify a research area and research mentor by the middle of the second year and the hope is that all Fellows will accomplish significant research, worthy of presentation at national or international meetings and publication.
The Hematology Research Track involves a total of 4 years with more than two years dedicated to basic research. The clinical training is otherwise equivalent to that of Hematology and Oncology Fellows and fully prepares the Fellow for clinical practice.
The goal of the research track is to provide sufficient time and educational support to achieve the ability to function as an independent investigator by the end of the training. Research Fellows can combine their training with graduate course work leading to a Ph.
The Geriatric and Oncology track is one of the first and best developed training programs of its kind in the country. Fellows receive training in both Geriatrics and Oncology and can sit for boards in both disciplines at the end of three years.
Some Fellows have opted to do an additional year in order to become board certified in Hematology as well. The program includes coursework leading to a Masters in Health Sciences and hopes to develop future leaders in this important, emerging field.
Please visit the Geriatrics Department website for further information. Fellows are assigned to one to two month rotations on either the Hematology and Oncology Consult service, the inpatient Hematology and Oncology Ward Service, the Transplant Service or elective rotations.
It is expected that Fellows will attend two to three outpatient clinic sessions per week throughout the first two years of the fellowship as well. During the third year of the Fellowship, attendance at one half day clinic session a week is required.
Fellows frequently elect to do more clinics in specific areas of interest.
Pediatrics - Wikipedia
For detailed information on rotations at Boston Medical Center:The Hematology and Oncology Fellowship Program at Boston University School of Medicine is an ACGME accredited program currently recruiting 3 to 5 Fellows per year with a total number of fellows in the program, for careers in Academic and Clinical Practice.
Applying for Fellowship Applying for Fellowship. The University of Florida Pediatric Hematology Oncology program typically has one incoming first year fellowship position per academic year, but has the capability of accepting two applicants.
Applying for any medical fellowship with a specialty in oncology, medical or radiation type requires a high-quality personal statement.
Advice for Personal Statements - Part 4 - Fellowship vs Residency | DLA Editors & Proofers
Those selected will have an excellent training in medicine, must be able to work in multi-discipline teams, and be committed to a career in the oncology specialty.
Pediatric Hematology/Oncology fellowships are three years in length. Pediatric Hospital Medicine focuses on the care of children in a hospital setting, including the pediatric ward, labor and delivery, the newborn nursery, the emergency department, the neonatal intensive care unit, and the pediatric intensive care unit.
Providing advanced pediatric surgical training to physician assistants. The Pediatric Surgery Fellowship for Physician Assistants is the first of its kind in the country to offer a month didactic and clinical pediatric training program to physician assistants.
Personal Statement Four letters of recommendation including: Fellowship Program in Pediatric Hematology/Oncology University of Iowa, Division of Pediatric Hematology/Oncology William Terry, MD, MPH Clinical Assistant Professor of Pediatrics Associate Director, Fellowship Program in Pediatric Hematology/Oncology University of Iowa.